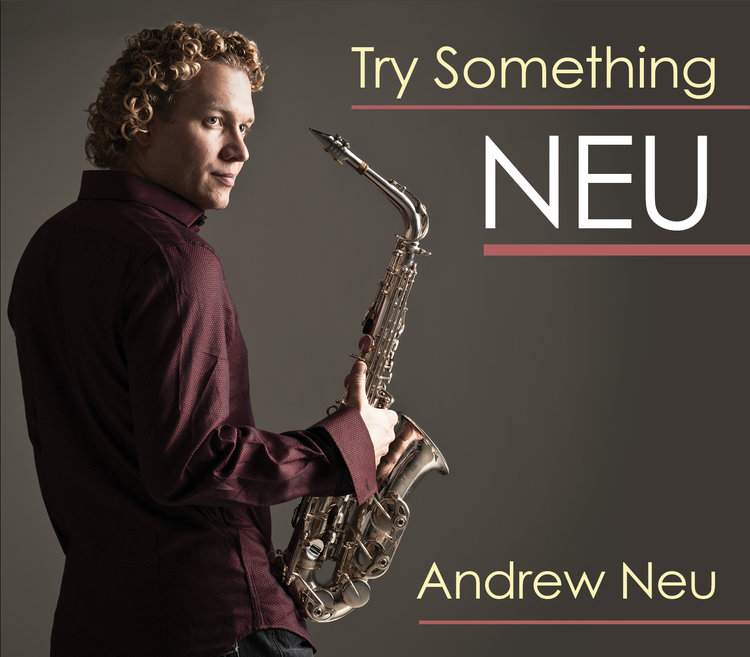 Try Something Neu
On Andrew's third CD, TRY SOMETHING NEU, his sax playing is stronger than ever and shows off his real jazz chops. He brought together the dream team of producers, Brian Bromberg, Chuck Loeb and Gerald Veasley. Each bringing their own style of music you hear a little LA, NYC and Philly vibe. Once again you have the ever present Bright and Tight Horns as well as the brilliant vocals of Bobby Caldwell. Andrew's debut on NuGroove Records, this CD immediately hit the top 20 on the smooth jazz charts.
Buy here to received a signed copy!
We do not ship outside of the United States at the moment.
Try Something Neu
ANDREW NEU - Tenor, Soprano and Alto Sax
BRIAN BROMBERG – Producer, Electric, Upright and Piccolo Bass
CHUCK LOEB – Producer and Guitar
GERALD VEASLEY – Producer and Bass
BOBBY CALDWELL - All Vocals
DAVE KOCHANSKI - Keyboards
GANNIN ARNOLD - Rhythm Guitar
DAVE WECKL - Drums
ANTHONY BONSERA - Trumpet
BRIAN CULBERTSON - Trombone
DONALD ROBINSON – Keyboards
WENDELL SEWELL - Rhythm Guitar
BRIAN DUNNE - Drum
DAN SIEGEL – Piano and Keyboards
GANNIN ARNOLD – Rhythm Guitar
DEREK "D 'LOC" WALKER - Drums
JOEL TAYLOR - Drums
DEMETRIOS PAPPAS – Piano and Organ
RICHARD TUCKER - Electric Guitar
ROB COCHRAN - Bass Solo
RICHARD WALLER – Drum Programming
TOM ZINK – String Arrangement

THE BRIGHT AND TIGHT HORNS:
CHUCK GOTTESMAN - Lead Trumpet and Flugelhorn
PETER NEU - Trumpet and Flugelhorn
BRIAN PASTOR - Trombone
DAVE CIANCI - Trombone and Bass Trombone (South By Southwest only)
ANDREW NEU - Alto and Tenor Sax